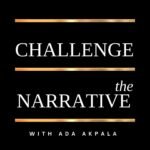 Here I open up about when I was bullied in secondary school by another black boy; and he bullied me because I was black. It was rather odd. I also explain how it marked me and contributes to the mindset I have today.
I also answer your questions! Today's question is in relation to the possibility of being offended on behalf of others.
If you have a question you want answered on an episode, please send it to differentvoicex@gmail.com.
You can support this work by becoming a Patron today! https://www.patreon.com/adaakpala.
Connect with me, let's have a conversation. @itsadaakpala