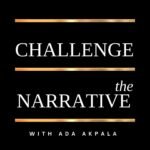 Many black people are more concerned about the black thing to do, rather than the right thing to do.
In this episode, I discuss how groupthink stifles growth and limits people's ability to think authentically.
I've spoken with hundreds of black people, and they all say the same thing: groupthink and gatekeeping from the "black community" has had a greater negative impact on them than racism. This, however, is a topic that isn't widely discussed.
But the thing is, we cannot go through life living by the expectations of others, especially if they are strangers. People do not owe each other any allegiance simply because they have the same skin colour or belong to the same racial identity group. It's ridiculous!
Hope you find value in this episode.
You can find full the transcript to this episode on my patreon – www.patreon.com/adaakpala, there are some other cool things there too!
Connect with me on social media – @itsadaakpala
Speak soon x